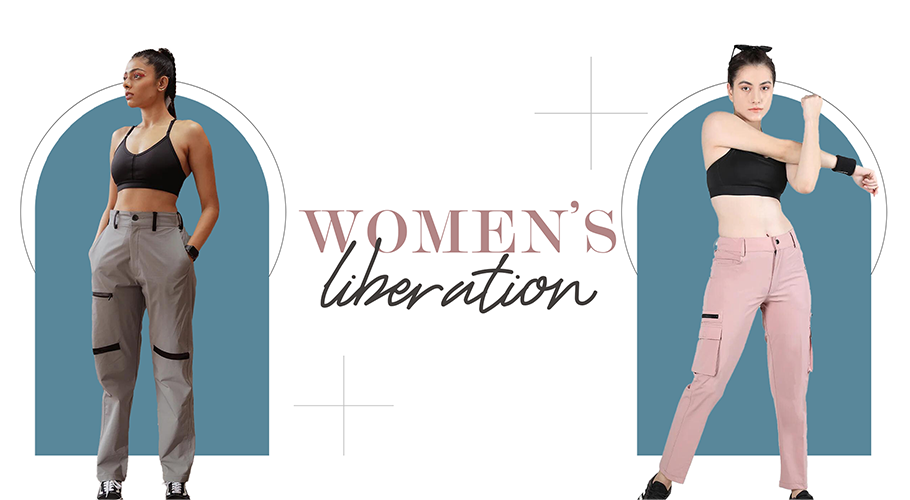 Women's Liberation: Bye, Bottom Woes!
Are you tired of wearing ill-fitted and uncomfortable bottoms like jeans or formal pants that cause embarrassing camel toes? Say goodbye to discomfort and embrace the ultimate solution for everyday wear - Chkokko Active Trousers! These versatile and stylish trousers are designed to provide unmatched comfort, perfect fit, and performance-boosting technology, making them the ideal choice for women of all ages.
The End of Everyday Bottom Woes: Jeans and formal pants may look great, but they often fall short in terms of comfort and mobility. Chkokko's Active Trousers are the perfect replacement for these traditional bottoms. With a thoughtful design and high-quality fabric, they offer unparalleled comfort for all-day wear. Whether you're running errands, working, or engaging in any activity, these trousers will keep you at ease, allowing you to move freely without any restrictions.
Solving the Camel Toe Dilemma: Many women face the uncomfortable and embarrassing issue of camel toes while wearing ill-fitted pants. Chkokko's Active Trousers are tailored to perfection, ensuring a flawless fit that eliminates the dreaded camel toe problem. You can now step out with confidence and poise, knowing that you look your best in these trousers.
Performance-Boosting Technology: The Chkokko Women's Training Trackpants are equipped with cutting-edge technology to enhance your performance. The fabric is made of premium polyester that not only keeps you looking stylish but also wicks away moisture, thanks to the Rapid Dry technology. Say goodbye to unsightly sweat marks and stay fresh throughout the day. The Anti-Microbial technology further combats body odor, ensuring you stay confident and odor-free, no matter how busy your schedule gets.
Pockets for Practicality: One of the standout features of Chkokko Active Trousers is the cleverly designed pockets. With two side and two back pockets, you get ample space to carry your essentials with you on the go. Whether it's your phone, keys, wallet, or other small items, you can keep them close at hand without compromising your comfort or style.
A Versatile Wardrobe Staple: The Chkokko Active Trousers are the ultimate wardrobe staple that can effortlessly transition from casual to semi-formal occasions. Pair them with a chic top and sneakers for a relaxed day out or dress them up with a blouse and heels for a classy evening look. These trousers are perfect for women of all ages, and their timeless style ensures they remain a favorite for years to come.
In conclusion, Chkokko Active Trousers are a game-changer for women seeking everyday bottoms that offer unmatched comfort, perfect fit, and performance-boosting technology. Bid farewell to ill-fitted pants and welcome a new era of freedom and style with Chkokko. Upgrade your wardrobe with these versatile trousers and experience the perfect blend of fashion and functionality.
Embrace comfort, style, and confidence with Chkokko Active Trousers - Your go-to bottoms for every occasion!