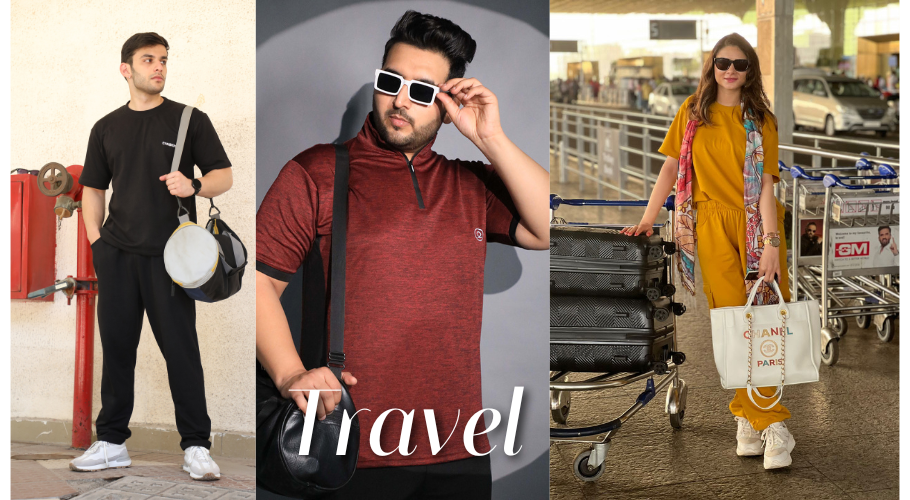 Athleisure: The Perfect Companion for Travel
Introduction: 
When it comes to travel, comfort and versatility are key. Whether you're embarking on a long-haul flight or exploring new destinations, having the right attire can make all the difference in ensuring a pleasant and enjoyable journey. That's where athleisure comes in. This trendy fashion trend has taken the world by storm, offering a perfect blend of style and functionality. In this blog post, we will explore the benefits of athleisure for travel, highlighting its comfort, versatility, and ability to transition seamlessly from one activity to another.
Comfort: One of the primary reasons why athleisure has become a go-to choice for travelers is its unparalleled comfort. The use of soft, stretchable fabrics ensures that you can move freely and comfortably, even during long flights or extended periods of walking. The breathable nature of athleisure materials allows for better airflow, preventing discomfort and sweat buildup. This aspect is particularly crucial when traveling to warmer climates or engaging in outdoor activities.
Versatility: Another advantage of athleisure is its incredible versatility. Athleisure outfits can easily transition from one setting to another, making them ideal for travel. You can wear them during your flight, for sightseeing, and even for casual dinners or outings. Athleisure offers a wide range of options, from track pants and co-ord sets to t-shirts and dri-fit options, allowing you to mix and match based on the occasion.
Style Tip: Layering is the key to elevating your athleisure outfits. Pair your track pants or leggings with a stylish jacket or cardigan for a more polished look. Add a statement accessory, such as a scarf or a hat, to complete the ensemble.
Packing Tips:
Opt for lightweight athleisure pieces that are easy to pack and won't take up much space in your luggage.

Roll your athleisure garments instead of folding them to minimize wrinkles and save space.

Pack a mix of baggy and regular-fit track pants to cater to different activities and personal preferences.

Choose dri-fit options for intense workouts, walking, or trekking. These materials wick away sweat and keep you cool and comfortable.

Pack t-shirts made with breathable fabrics that allow air circulation, ensuring you stay fresh throughout your travels.
  Styling for Different Travel Scenarios:
Airport/ Rail Style: Pair your favorite track pants with a comfortable t-shirt and a lightweight jacket. Complete the look with sneakers or slip-on shoes for easy security checks.

Sightseeing Adventures: Opt for a co-ord set, combining a loose-fitting top with matching leggings or shorts. Layer with a denim jacket and accessorize with sunglasses and a crossbody bag for a trendy yet practical outfit.

Evening Outings: Dress up your athleisure with a pair of joggers or leggings, a stylish blouse, and a statement jacket. Finish off the look with ankle boots or sneakers for a chic and effortless vibe.
Conclusion: 
 Athleisure has revolutionized the way we dress for travel, offering comfort, versatility, and style all in one package. Whether you're jetting off to a new city or embarking on an adventure-filled vacation, athleisure outfits provide the perfect balance of functionality and fashion. By packing the right athleisure pieces and following our styling tips, you can look and feel your best while exploring the world. So, embrace athleisure as your go-to travel companion and experience the ultimate combination of comfort and style on your next adventure.