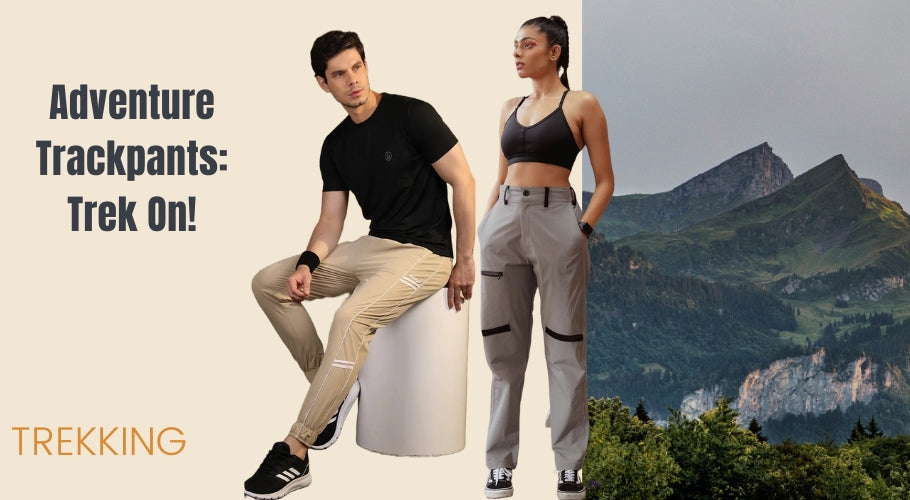 Chkokko's Track Pants: Your Ideal Companion for Trekking Adventures
Embarking on a thrilling trekking adventure in the picturesque landscapes of India demands not only your enthusiasm but also the right gear to ensure comfort and mobility throughout your journey. Chkokko, renowned for its high-quality sportswear, presents track pants that are tailor-made for trekkers seeking ultimate performance and style. In this article, we delve into the reasons why Chkokko's track pants are best for trekking, while also sharing five personal recommendations for the best trekking destinations in India.
Unparalleled Comfort and Flexibility: Chkokko's track pants are designed with utmost care to provide trekkers with unparalleled comfort and flexibility. Crafted from premium quality fabrics, these track pants offer breathability and moisture-wicking properties, allowing you to stay cool and dry even during long and challenging treks. The stretchable material ensures ease of movement, enabling you to conquer rugged terrains effortlessly.
Durable and Resilient: Trekking involves traversing through diverse terrains that can be rough and unforgiving. Chkokko's track pants are built to withstand such conditions. The reinforced stitching and durable materials make them resistant to wear and tear, ensuring they can withstand the rigors of trekking over extended periods. You can trust Chkokko's track pants to be your reliable companion on every adventure.
Practical Design: Chkokko understands the importance of functionality in trekking gear. Their track pants feature multiple pockets that are strategically placed for easy access to essentials such as maps, compasses, and energy bars. The elastic waistbands and adjustable drawstrings provide a customizable fit, allowing you to stay comfortable and secure while trekking. Additionally, some variants come with zip-off legs, providing the versatility of converting them into shorts when needed.
Stylish and Versatile: Chkokko's track pants not only offer exceptional functionality but also exhibit a trendy and versatile design. Available in a range of colors and styles, they allow you to express your personal style while exploring the great outdoors. Whether you prefer a classic or a more contemporary look, Chkokko has track pants to suit every taste.
Now, let's dive into five personally recommended trekking destinations in India that will leave you in awe of the country's natural beauty.
Roopkund Trek, Uttarakhand: Located amidst the majestic Himalayas, the Roopkund Trek offers a breathtaking trail through dense forests, alpine meadows, and finally, to the glacial Roopkund Lake. The mystery of the skeletal remains found near the lake adds an intriguing element to this unforgettable journey.
Valley of Flowers, Uttarakhand: A trek to the Valley of Flowers is like stepping into a dreamland. This UNESCO World Heritage Site is known for its vibrant floral carpets, cascading waterfalls, and snow-capped peaks. The trek takes you through a stunning array of wildflowers and offers glimpses of rare Himalayan wildlife.
Chadar Trek, Ladakh: For the adventurous souls, the Chadar Trek in Ladakh is an experience like no other. Walking on the frozen Zanskar River with towering snow-clad mountains on either side is an adrenaline-pumping adventure. This trek is ideal for those seeking a thrilling and challenging escapade.
Hampta Pass Trek, Himachal Pradesh: The Hampta Pass Trek is a magnificent journey that takes you from the lush green valleys of Kullu to the arid landscapes of Lahaul. The trail offers breathtaking views of snow-capped peaks, picturesque meadows, and the enchanting Chandratal Lake, making it a must-do for nature enthusiasts.
Sandakphu Trek, West Bengal: The Sandakphu Trek, located in the lap of the mighty Himalayas, offers panoramic views of the world's highest peaks, including Mount Everest, Kanchenjunga, and Makalu. This trek rewards you with awe-inspiring sunrises and sunsets, making it a visual delight for trekkers.
 When it comes to trekking adventures, Chkokko's track pants are the perfect choice for their unbeatable comfort, durability, and style. Equipped with these track pants, you can embark on your journey with confidence, knowing that you have the ideal gear to tackle any challenge. As you explore the breathtaking trekking destinations in India, may you find solace in the beauty of nature and create memories that will last a lifetime.