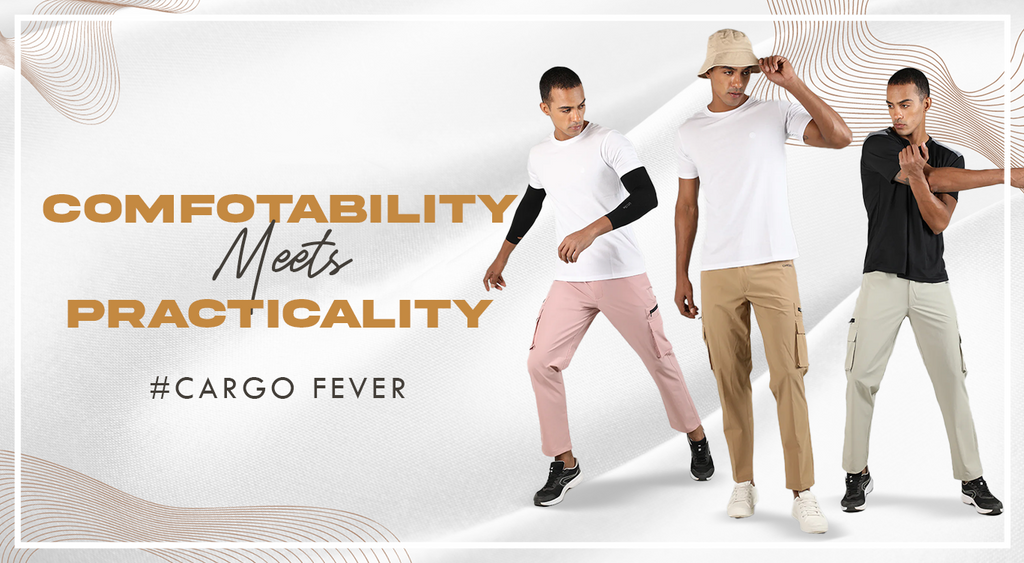 5 Tips and Tricks to Layer Chkokko's Cargo Collection
Brief
The sudden emergence of online shopping has reshaped consumer behavior, demanding not only quick deliveries but also transparency in tracking and tracing shipments. That's where Chkokko comes in. Chkokko balances comfort, convenience and style at the same time showcasing a unique blend in the world of D2C fashion.   
In this dynamic landscape, cargofits play a pivotal role in enhancing the overall competitiveness and success of businesses. They help companies achieve cost efficiencies, streamline operations, reduce lead times, and improve inventory management, all while meeting the ever-increasing demands of unique menscollection. Cargo fits also contribute to reducing waste and minimizing environmental impact by optimizing routes, modes of transportation, and warehouse operations.
Layering a cargo collection can be an effective way to create versatile and stylish outfits. In this blog, we will focus on 5 tips and tricks to layer chkokko's cargo collection. Let's get into this.
1. Start with a Neutral Base:
For starters, you can begin your cargo collection layering with a neutral base, such as a solid-colored t-shirt, tank top, or a simple button-down shirt. At Chkokko, we have neutrals serving as a blank canvas that allows your cargo pieces to shine. With Chkokko cargofits, you can also make sure of having a balanced foundation for adding more complex layers.
2. Mix Textures and Fabrics:
 Next up when you are done with experimenting with the neutral base, you can mix match with visual interest, and match different textures and fabrics. 
Here comes Chkokko, where you can combine a lightweight cotton cargo jacket with a knitted sweater and not just these, but we have more such thrilling combinations too in our basket. 
Now what will do for you?
These creative mixtures will add depth, dimension and variety to your menscollection when it comes to selecting cargofits as your fashion game. 
3. Play with Proportions:
Be it neutrals or even colors, one thing in fashion or even in life that you can't overlook is 'experimenting', like we did in Chkokko while combining fashion and comfort. 
So coming back to the topic real quick, if you got cargofits, try pairing them with a slim-fitting turtleneck. Conversely, if you go for a loose cargo fit or jacket, pair them with more streamlined bottoms to get rid of an overly baggy appearance. 
 Experiment with proportions to achieve a balanced look. If you're wearing cargo pants, pair them with a more fitted or tailored top, like a slim-fitting turtleneck or a fitted blouse.
4. Use Accessories Wisely:
Apart from mixing up with different colors and combinations, go with accessories as well, that would elevate your cargo collection and layering. Moreover, try adding a belt to cinch your waist when wearing a loose cargo jacket or shirt in order to create a more defined silhouette. 
Recently, we are witnessing scarves, statement necklaces, and hats that are being used to build a new fashion statement in the industry. If you also wanna level up your style, don't hesitate to use the above mentioned options in your wardrobe. 
5. Consider Color Coordination:
Last but the most important one, closely pay attention to the color coordinations when you layer the cargo pieces. In chkokko, you can have cargo in earthly tones, military greens, and camo prints. 
End Note
With Chkokko. you will come across a different yet creative menscollection wherein cargo collection layering will allow you to adapt to various occasions, starting with casual outings to moving ahead with formal events as well. 
Here in Chkokko, we take pride in considering comfort along with functionality and aesthetics. 
If you too wanna ride this amazing wave with us for fashion and comfort, don't stop shopping!