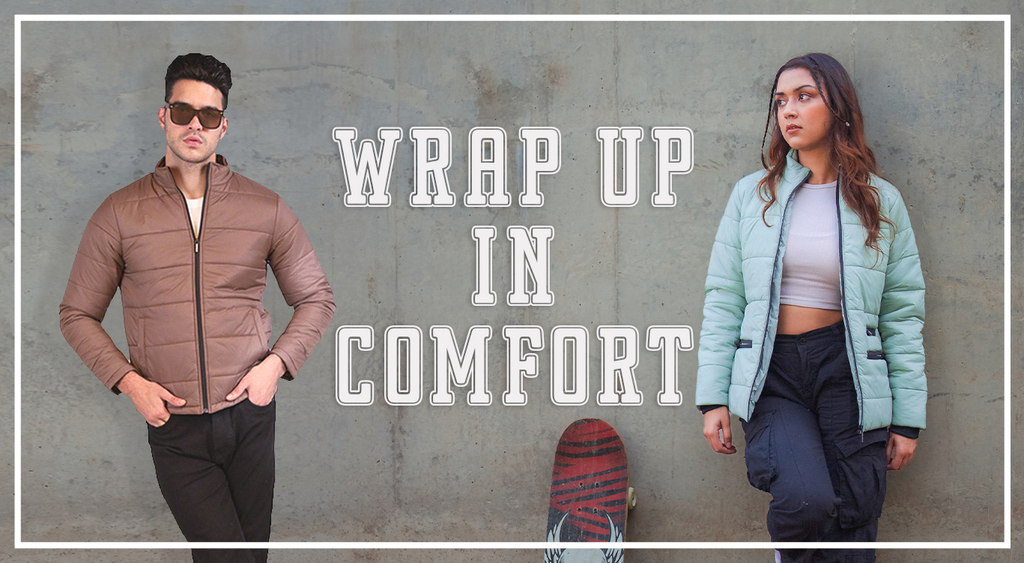 5 Must-Have Winter Wardrobe Essentials for Fashionable Comfort
Currently, there has been a great transition in fashion trends and with the growth of D2C brands in the market, a unique blend of comfort and innovativeness has been noticed. 
With that said, Chkokko has arisen as a great contributor to the world of athleisure, their creative designs are laudable enough to the concept of activewear, that suits the demands of Gen-Z individuals and other age groups as well. 
The concepts of design philosophy in recent years have dynamically shifted from ordinary to artistry, with a creative blend of both fashion and comfort. 
Rather than the ordinary designs already being there in the market, Chkokko plays around with unique and enamoring designs that give a creative shape to sports clothing. 
As winter is around the corner, in this article we will be talking about the 5 Must-Have Winter Wardrobe Essentials for Fashionable Comfort that suits your requirements of both styling and comfort.
Let's get into this folks!
1. Jackets
When it comes to Wintercollections, these days jackets are one of the great options as they can be styled for both professional and casual dressing. Chkokkobrand has a sumptuous collection of jackets for both genders i.e., men and women. Chkokko; 's Lightweight jackets are extremely perfect for spring and early fall, while slightly heavier options like parkas and puffer jackets are ideal for winter. This seasonal adaptability adds to the demand for jackets year-round.
2. Coats
Other than the jackets, coats are a must for keeping your wintercollection occupied with Style Serendipity. Chkokko's tailored woolen tweed pea coat, and overcoats like checked single-breasted wool for women not only give you that Urban Vogue look but also fill in the expectation for Elegance Echo!
3. High-Necks
Chkokko's high necks equip you with added warmth that you most of the time watch out for. Chkokko's high neckline helps to entangle heat and keep the neck area insulated as well. Wearing Chkokko's high-necks comes with two-fold benefits, first, it helps escape the heat from the neck area, on the same note, wearing high-necks can help you get rid of cold weather. 
4. Shackets
Lately, Shackets have become a prevalent choice for those looking to strike a balance between comfort and style. Chkokko's sockets offer a convenient way to elevate your outfit while maintaining a cozy plus effortless look. While in Chkokko's wintercollection, casual shackets are already rocking, you can even try our checked shackets if you intend to style them a professional way!  
5. Track Suits
Last but not least, Chkokko's wintercollection entails Tracksuits which are known for their comfort and coziness. The soft, breathable materials used in their production provide a snug and comfortable fit, making them an attractive option for reclining at home or running errands on chilly days.
The relaxed fit and stretchy materials in Chkokko's tracksuits allow for easy movement, which is crucial for winter activities like walking, jogging, or exercising outdoors.
They are suitable for different occasions such as workouts, casual outings, and even for athleisure-inspired looks.
What Influencers Say About It?
Chkokko's wintercollection is highly preferred by a great number of influencers such as Ishita Dutta, Karan Mehra, Paras Arora, and other renowned celebrities who hardly fail to slay any apparel by Chkokko.
End Note
To summarize the article, Chkokko's wintercollection outfits are highly preferred for their blend of warmth, comfort, versatility, and the ability to adapt to various temperatures and activities. They have become a staple in many people's winter wardrobes, catering to both active lifestyles and the desire for cozy, stylish clothing during the colder months.