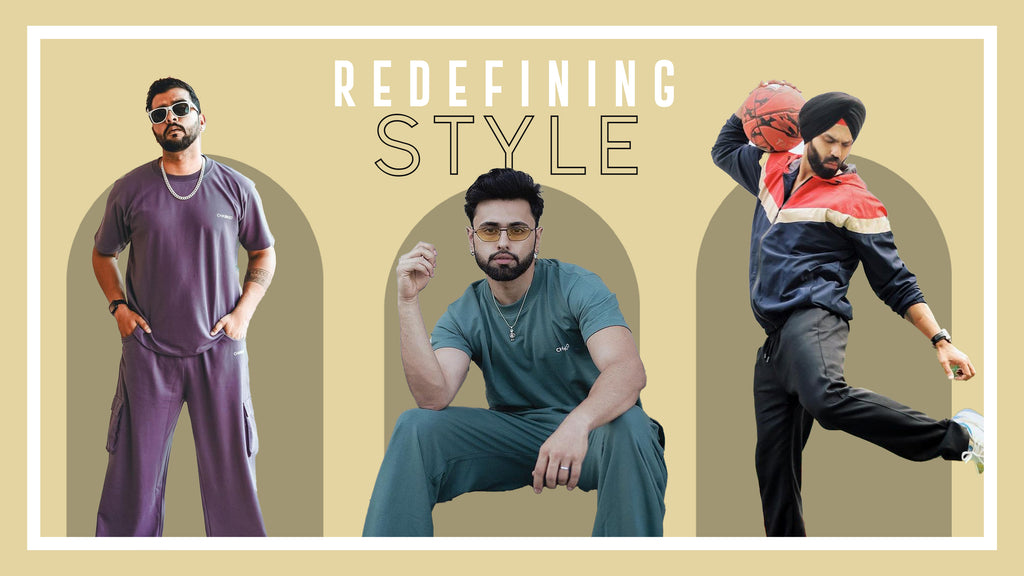 Athleisure for Men: Fashion Tips and Must-Have Pieces
In recent years, athleisure has emerged as a dominant trend in the fashion world, offering men the perfect blend of style and comfort. This versatile clothing style has gained immense popularity, as it seamlessly transitions from the gym to casual outings and even semi-formal events. Chkokko, a brand that truly understands the modern man's fashion needs, offers a wide range of athleisure pieces for every occasion. In this blog, we will explore the concept of athleisure for men and highlight some must-have pieces available in Chkokko's male section, including their plus-size collection.
What is Athleisure?
Athleisure is a fashion trend that combines athletic wear with casual, everyday clothing. It brings together the functionality and comfort of sportswear with contemporary designs, allowing men to look effortlessly stylish while feeling relaxed. The key to mastering athleisure lies in striking the right balance between athletic and casual elements, creating a polished and well-put-together appearance.
Fashion Tips for Pulling off Athleisure:
Monochrome Magic:

Opt for monochromatic outfits in neutral colors like black, gray, navy, or olive. Monochrome looks not only appear more refined but also elongate the body, giving a flattering silhouette.

Mix and Match:

Experiment with combining athletic pieces with traditional clothing. For example, pair a tailored blazer with track pants and a classic tee for a sophisticated yet sporty look.

Tailored Athleisure:

Invest in athleisure pieces with a tailored fit to avoid appearing too casual. Tailored joggers or fitted bomber jackets can elevate your outfit instantly.

Accessorize Smartly:

Don't be afraid to add some accessories to your athleisure ensemble. A stylish watch, a minimalist necklace, or a snapback can enhance your overall look.

Layering:

Layering is the key to a versatile athleisure wardrobe. Try layering a tank top with a bomber jacket or a hoodie under a blazer for a fashionable and functional ensemble.
Must-Have Athleisure Pieces from Chkokko:
 T-Shirts and Tops:

Chkokko offers a wide variety of trendy t-shirts and tops in various colors and designs. These can be paired with anything from shorts to track pants, providing maximum comfort without compromising on style.

Tank Tops:

Perfect for summer or intense workouts, Chkokko's tank tops are designed to keep you cool and stylish during physical activities.

Polos:

For a slightly dressier look, their polos are an excellent choice. The blend of athletic fabric with the classic polo design creates a smart-casual appearance.

Jackets:

Chkokko's jackets are an essential addition to any athleisure wardrobe. From windbreakers to hooded jackets, these pieces combine style with functionality, ideal for outdoor activities.

Shorts and Track Pants:

Whether you're hitting the gym or going for a casual stroll, Chkokko's shorts and track pants offer comfort and style, making them must-have pieces for any athleisure enthusiast.

Co-ord Sets:

For a hassle-free outfit selection, co-ord sets are the go-to option. These matching sets ensure a put-together look without the effort of mixing and matching.

Active Trousers:

Ideal for men on the go, Chkokko's active trousers provide the perfect blend of comfort and style, making them suitable for various occasions.
Plus-Size Athleisure Collection:
Chkokko's dedication to inclusivity is evident through their plus-size athleisure collection. Embracing the trend, they offer the same stylish and functional pieces for the plus-size man. From t-shirts to track pants, every individual can find the perfect athleisure ensemble that suits their style and size.
In conclusion, athleisure for men has become a game-changer in the fashion industry, redefining the way men dress for both leisure and active pursuits. Chkokko's extensive selection of athleisure pieces ensures that every man can effortlessly achieve a stylish and comfortable look. So, embrace this trend and upgrade your wardrobe with Chkokko's versatile and fashionable athleisure collection!